July 15-16th at Virginia Commonwealth University in Richmond.
Chairman Brian Moran and the Democratic Party of Virginia, in cooperation with Organizing for America and the Virginia Young Democrats, are pleased to announce the creation of a groundbreaking new event – The  Virginia Summit.   The event will be held on July 15th-16th at Virginia Commonwealth University in Richmond. The Summit will be a unique opportunity for Democrats and progressive activists to come together to:
Engage in high level discussions and briefings with nationally recognized  experts on the critical policy issues facing our Commonwealth and our nation incluing jobs and the economy, education, health care, national security and energy and the environment.
Participate in trainings conducted by top-tier operatives to develop the skills and  tools that our local leaders and grassroots organizers need to win  elections.
Play a role in developing winning strategies for candidates and potential candidates  to build a bench of prospective public servants that is second to none.
Network with fellow Democratic professionals and explore career development opportunities.
To register, go to http://www.vademocrats.org/dpva-summit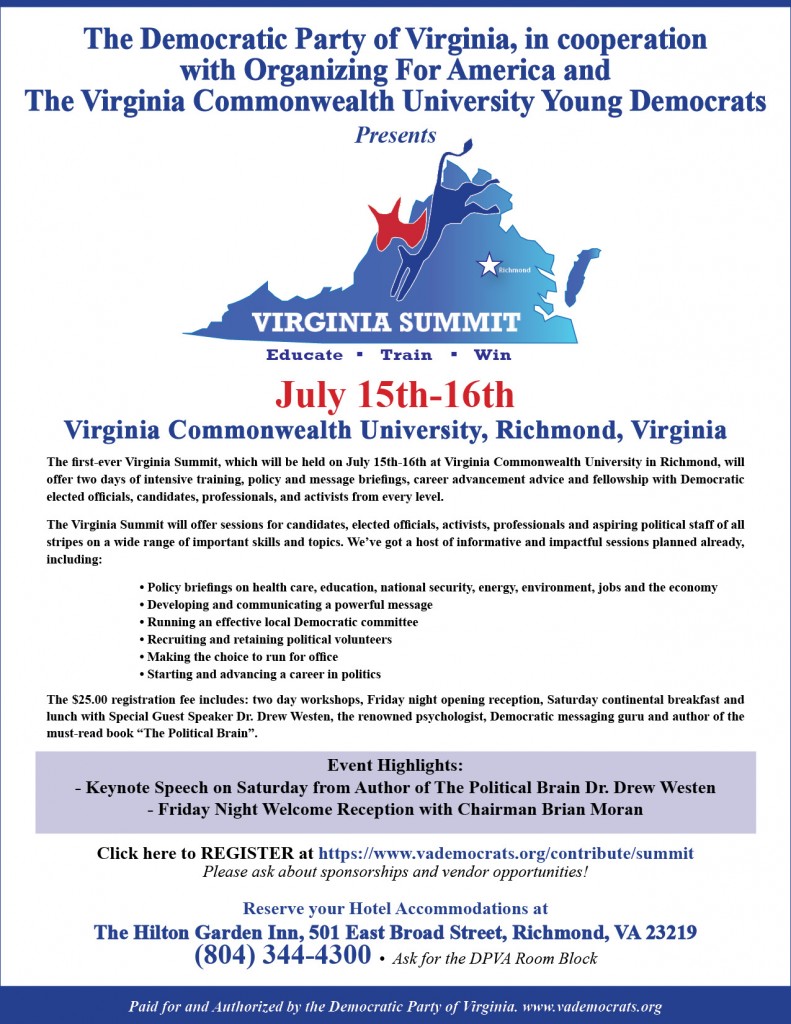 UPDATE 7/13/11: The Democratic Party of Virginia announced today that Former Secretary of Technology for the Commonwealth of Virginia and internationally recognized leader in the field of technology and innovation Aneesh Chopra would participate in the first-ever Virginia Summit on July 16th, 2011.
In a session entitled "Winning the Future through Open Innovation – Catalyzing Breakthroughs in Healthcare, Energy, Education & Manufacturing," Chopra will discuss strategies for American innovation and open government, with a focus on harnessing the creativity of the American people in solving our nation's most pressing problems.
"We are thrilled to have Aneesh join us for the largest training and education event our party has ever undertaken," said Democratic Party of Virginia Chairman Brian Moran. "Our attendees will benefit greatly from his knowledge and experience, as well as from our other presenters, trainers and panelists.
"The Virginia Summit is the first event of it's kind in the Commonwealth, a real opportunity for Democratic and progressive activists to build the skills, tools and policy knowledge they need to win in 2011 and in the years to come."
A joint effort of the Democratic Party of Virginia, the Virginia Young Democrats and Organizing for America, the Virginia Summit will feature two days of traning for Democratic candidates, professionals and activists on a range of critical skills, tools and policy topics.