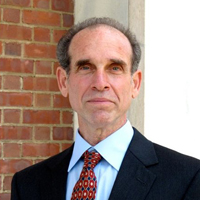 MOUNT JACKSON, Va., Aug. 25, 2011 (PRNewswire) — "We need to understand what has gone wrong in American politics, and how our present dangerous political dynamic can be turned around." That is what has impelled Dr. Andy Schmookler to run for the Congressional seat in the 6th district of Virginia.
Schmookler believes that our country faces big challenges, and that "We Americans need a government that's dedicated to taking constructive action to meet them. We need leaders who will bring us together to achieve our common purposes, not use a divide and conquer strategy against us. We need leaders who will fight for government for the people and by the people, not just the powerful few."
He faults the GOP's ideological blindness in dismantling the regulatory safeguards for our financial system, for driving America into the greatest economic crisis since the Great Depression, killing millions of jobs across this country and tens of thousands here in Virginia. He suspects that the GOP is now trying to prevent effective economic policy as a strategy for regaining power for itself.
Andy Schmookler pledges that he will always treat the well-being of the average citizen with the same importance as that of the rich and powerful — not the practice of the 20-year GOP foot soldier, Bob Goodlatte. "I am concerned about where America is heading, and I will work hard to help ensure a future where every person has the opportunity to fulfill their God-given potential."
He pledges, too, to put speaking the truth ahead of political advantage, for himself or his party. Between the lies and the unspoken truths, Andy says, "there are good reasons why the Pew Research Center recently found that trust in government has fallen to historic lows."
Dr. Schmookler has a record of accomplishment as an award-winning author of seven books, a public speaker, and a political commentator on radio shows and in newspapers around the nation.
Andy studied as an undergraduate at Harvard College, where he graduated with highest honors in Social Relations in 1967. He went on to earn his doctorate in 1977 at the University of California at Berkeley and the Graduate Theological Union in a program specially created to accommodate his comprehensive theory of human history.
In 1984, Dr. Schmookler was awarded the Erik H. Erikson Prize by the International Society for Political Psychology. And in 1985, he was selected by Esquire Magazine as "one of the men and women under forty who are changing the nation."
He and his wife, April Moore, have resided in Shenandoah County near Orkney Springs since 1992. They have three grown children.
Video statement from Andy Schmookler:
http://youtu.be/6SUjdb_qg5w
To learn more about Andy Schmookler, please visit: http://www.andyschmooklerforcongress.com
Photo:
http://www.ereleases.com/pic/AndySchmookler.jpg
Contact:
Kathy Horn
Roadrunner Talent and Media
914-573-3276
RoadrunnerTalentandMedia@gmail.com
This press release was issued through eReleases(R).  For more information, visit eReleases Press Release Distribution at http://www.ereleases.com.
SOURCE  Andy Schmookler For Congress