9/5/13 – Thanks to everyone who helped make the Yard Sale a success!
The Rappahannock County Democratic Committee's Indoor Yard Sale is Saturday & Sunday, August 31 & September 1 at the Washington Fire Hall. We are seeking donations of sell-able items. Please contact Ross at 540 987-8019 to arrange drop-off or pick-up. Drop-off days are Thursday & Friday, August 29 & 30 at the Fire Hall.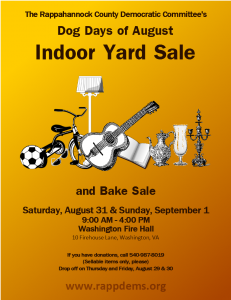 Would you like to contribute baked goods to the Dog Days of August Yard Sale? Drop off is by 9 a.m. Saturday, August 31. Please contact Larry & Hi Soo Hepinstall to let them know what you plan to bring. Cal them at 540-987-8316 or email them at larryhep1 (at )yahoo.com.