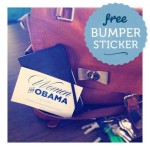 Click here to get your free "Women for Obama" bumpersticker.
As stated on www.barackobama.com,
Pesident Obama stood up for women—from fighting for equal pay to protecting a woman's right to choose and cracking down on gender discrimination in health care.

Let everyone know you've got his back this November—get your free Women for Obama bumper sticker.