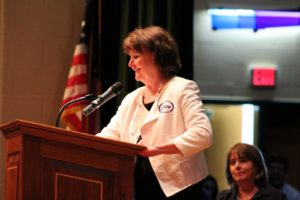 Rappahannock County Democrats,
When I took the stage on Saturday to accept the Democratic nomination, I took a moment to think about all the folks who have helped us get this far. I am so grateful for your support and proud to represent our party in this election. We have an incredible opportunity this year to win back our Congressional seat and use it to really help people all across the district.
Can you help us kick-start the general election with a contribution today?
We have a lot of work ahead of us. Over the next six months we'll need to reach thousands of voters by phone, at their doors, through the mail, and at community events. They need to hear our plans to bring good jobs back to the 5th by investing in workforce training and broadband infrastructure. We need to ask for their votes on November 8th. That's why I'm asking for your help today.
Gratefully,
Jane