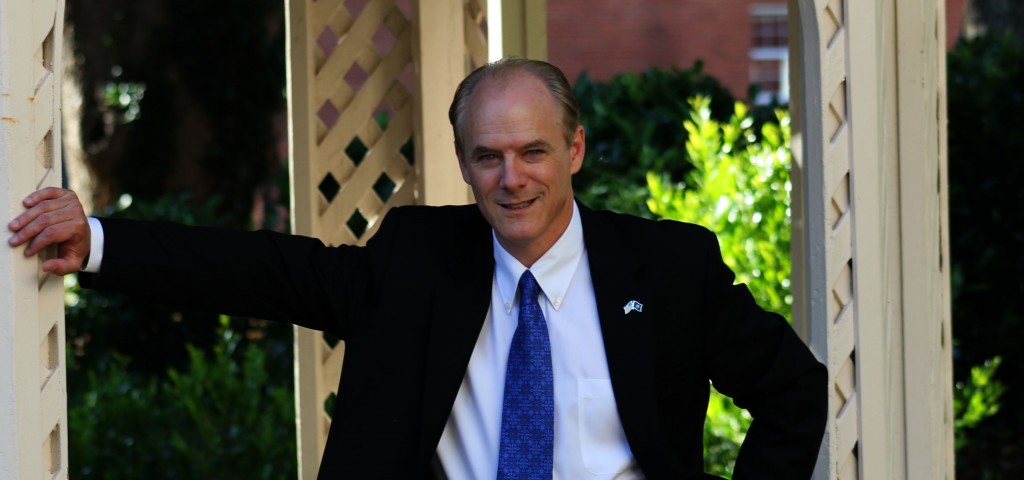 Lawrence Gaughan was born in the heart of Virginia's 5th Congressional district. A native of Charlottesville, he is the founder of the non-partisan, non-profit organization, GOV360. Lawrence is also a credited actor, director and producer in the entertainment industry, where he has been a trade union member in the Screen Actors Guild since 1996.
Lawrence's mother, Margery, was adopted by Charlottesville lumberjack and lumber broker, Walter Y. Darling and his wife Francis. His mother was raised in Charlottesville, and lived there until her death from cancer in 1986, when she was laid to rest alongside her adoptive parents in the hillside cemetery at Monticello Gardens. Lawrence has an older half-brother from his mother's first marriage, as well as a niece and two nephews, all of whom grew up in Charlottesville.
Lawrence's father, Lawrence D. Gaughan, came to Charlottesville, in 1963 to attend graduate school at the University of Virginia school of Law. He has been a Virginia State Bar member for nearly 50 years. Following the divorce of Lawrence's parents in 1979, Lawrence's father relocated to Northern Virginia, where he has practiced law and established himself as a pioneer in the field of divorce mediation.
Upon graduation from Albemarle High School in 1985, Lawrence immediately found work as a production assistant and stand-in for actor John Cryer on the motion picture, "Morgan Stewart's Coming Home", which was filmed in central Virginia. After attending his first two years of college in Virginia, Lawrence went on to finish his B.F.A in Theatre Arts at the University of Montana in 1994, before heading to Hollywood California to launch his acting career.
Lawrence returned to Virginia in 1999 where he worked on several film and stage productions in the area, including the play "Titus Andronicus", in conjunction with the Shenandoah Shakespeare festival and the Anthony Hopkins movie, "Hearts in Atlantis". Over the next decade, Lawrence was bi-coastal, working as an actor while maintaining strong ties to his home town. In 2003, Lawrence played the role of the catholic priest, Father Joseph in the popular, but short lived, NBC dramatic TV series, "American Dreams".
During the 2000's, Lawrence became more involved in political work for the Democratic party, working for John Kerry's 2004 presidential campaign as well as raising money for the DCCC during the successful 2006 midterm election cycle.
Between 2006 and 2009, Lawrence focused on honing his skills as a theatre and movie director, mounting over 40 staged readings and several full productions. In 2009, Lawrence co-wrote and directed the festival short movie, "Circles of Life", about the prominent signs of domestic violence.
In 2010, Lawrence founded GOV360 as an educational 501 (c)(3). He acquired grant funding from Google and other sources and began conducting research into the crisis of low civic participation, especially focusing on local and non-presidential elections. While continuing to work as an actor and serving as the CEO of GOV360, Lawrence found time to travel to Nicaragua to observe that country's 2012 municipal elections, which, for the first time in that nation's history, called for equal representation by women.
Between 2011 and 2013, Lawrence attended Pepperdine University where he received his Masters degree in Social Change Theory, graduating with honors.  Most recently, Lawrence played the role of Secret Service Agent Warner on three episodes of the upcoming season of the HBO TV comedy series, "VEEP".  Lawrence has turned over daily operations of the non-partisan organization he founded, and is now dedicated fulltime to working on his campaign. Lawrence is very proud of his lifelong connection to central Virginia as well as his years of dedication and service to the Democratic Party and his voter engagement work.
(source: http://www.gaughanforcongress.com)