New Date –  Saturday, November 2, 10 a.m. – 12 p.m.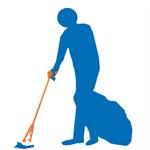 It's time for Fall litter pickup on Rt. 211. The Rappahannock County Democrats' designated area is between Massie's Corner and the Rappahannock County Library. This year the route is divided so volunteers won't have far to walk (all volunteers will initially meet at Massie's Corner). The trash pickup party at the library will start at shortly after 10:00 a.m., when the crews hit the road.
Volunteers needed: party helpers at the library
Please sign up and show the community that Democrats in Rappahannock County care! To sign up, call Jed Duvall at 540-937-3780.
Some RCHS band members and parents will be joining us, as a fundraiser.