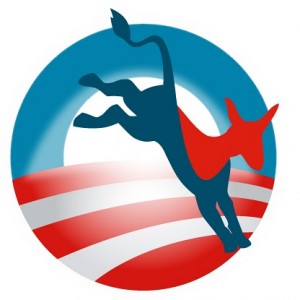 Our biennial reorganization caucus will be held on Saturday, January 7, 2012 at the Washington Town Hall. This caucus is for Democrats only. However, we welcome (and need) the support of non-Democrats who share our values and/or support our candidates. If you are in that category, stay on this list and you'll see opportunities to help out with events or activities in 2012.
Please let me know if you're interested in being on the executive committee or one of the standing committees.There are lots of things we can do together this year to help elect Barack Obama and Tim Kaine, turn a Republican House of Representatives seat to Democrat, and lay the foundation for the 2013 state elections.  –Steve Beatty, chair
 Notice of Rappahannock County Democratic Caucus:
The Rappahannock County Democratic Committee hereby announces that it will hold an assembled caucus beginning at 10:00 am on Saturday, January 7, 2012, at The Washington Town Hall on Gay Street for the purpose of electing members to the Rappahannock County Democratic Committee for the 2012-2013 Biennium.
Any Democrat wishing to be a member of the Committee must file an Application for Membership which may be mailed to RCDC, PO Box 277, Washington, VA 22747, or filed with Kay Beatty, Secretary, or filed with the Credentials Officer at the Caucus. Filing forms will be available from 9:00 am until 10:00 am at The Town Hall on the day of the Caucus. They will also be available at the Registrar of Voters office on Gay Street in Washington or by calling 675-3826. It is not necessary to be present at the Caucus in order to be elected as a member of the Committee; however, it is necessary that all Applications for Membership be in the possession of the Reorganization Caucus by 10:00 am, January 7, 2012.
There is no charge for those wishing to attend and vote at the Caucus.
Doors to the caucus will open at 9:00 am for breakfast and check-in. Any person attending the caucus shall sign a standardized Caucus participation Form stating that he or she is a Democrat, does not intend to support any candidate who is opposed by a Democratic nominee in the ensuing general election, believes in the principles of the Democratic Party, and is a registered voter in Rappahannock County. Caucus Participation Forms must be filled out at the caucus prior to participating in the caucus. At 10:00 am the doors to the caucus will be closed, and no person may complete a form and participate in the caucus after that time with the exception of those persons in line at 10:00 am.
Once the committee is reformed, the committee will convene and may choose to elect officers for the 2012-2013 Biennium.
For more information, contact Steve Beatty, 540-522-2588, chair@rappdems.org, or Kay Beatty at 540-560-9232, secretary@rappdems.org.